Like the photos above? We now offer these and more for download here!
upcoming events
WE 11/18 Kostume Karaoke
FR 11/20 Citizen Select – Indie/Dance/Pop Remixes [ soundcloud ]
SA 11/21 Jason "Dirty Boogie" Rivera (NYC) – Hip Hop/Club [ tumbler ]
WE 11/25 Giving Thanks for Johnnie Walker Whiskey Tasting w/ Nick Crutchfield (more info and ticket link below) plus Trevor Martin – club classix/bass
TH 11/26 DJ Dillinger
FR 11/27 FUNKSGIVING 2 feat. Qdup (Fort Knox Recordings / DC) [ soundcloud ] & Raptorstein (Mischief / DC) [ soundcloud ]
SA 11/28 ¡TOVA! – House, Hip Hop, Club Classics [ mixcloud ]

Little Miss Whiskey's Golden Dollar never charges cover for regular events!



This is the place to watch all NEW ORLEANS SAINTS games!! Come out and join the rest of the Who Dat Nation as we cheer on our beloved New Orleans Saints!! Bring your umbrellas, handkerchiefs, and that down-home spirit!!!


Every 1st & 3rd Wednesday is KOSTUME KARAOKE w/ Aubri O'Connor who also runs this event over at Solly's. If you wanna get your karaoke on you can bring your own costume or dress from Debbi's mad selection. Here's the Facebook page with all the info. The Washington Post calls it, "like no other singalong party in the city" — it's Kostume Karaoke!
Every 2nd and 4th Wednesday we've got KISS KISS BANG BANG featuring the best alternative music from the 80s. Make no mistake, this is NOT a typical 80s night, this is the music DC remembers from Poseurs, Back Alley & Cagneys back in the day! Here's the Facebook page for all the details.
Every first Friday is MONEYTOWN w/ DJ Nitekrawler & guests spinning old school funk, soul, disco, & boogaloo. This throwback throwdown shakes the dance floor w/ a holy joy & was recently named one of DC's Best Ongoing DJ Nights by the Washington Post.


Reservations can be made for the small private room on the second floor, or for the entire second floor. We can also reserve our outdoor patio, which includes a gas grill. Private whiskey tastings are available as well. If interested, please email us at reservations@littlemisswhiskeys.com.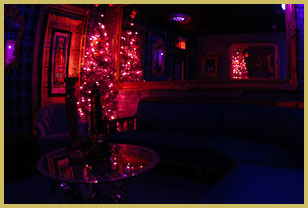 Little Miss Whiskey's Golden Dollar
1104 H Street NE
Washington DC 20002